Heavy rain has returned to California with the first in a fresh series of storms moving across the northern half of the state while the south awaited a storm that forecasters said could be the strongest in years if not decades.
Rain, accompanied by heavy winds, pelted the San Francisco Bay area, where Marin and Napa counties logged up to 2.2cm (1in) of precipitation. San Francisco recorded 4.24cm (1.67in) for the day, according to the National Weather Service.
Precipitation also moved down the central coast counties, but forecasters said it was only a light precursor to a dangerous atmospheric river taking aim at southern California.
How Oroville went from drought to an overflowing dam in just two years
The plume of moisture stretching far out over the Pacific was expected to arrive early Friday and last through the day and into Saturday.
Flood warnings for the period were in effect for rivers and creeks up and down the state. High wind warnings were issued for mountains and valleys, which could see gusts to 70 mph.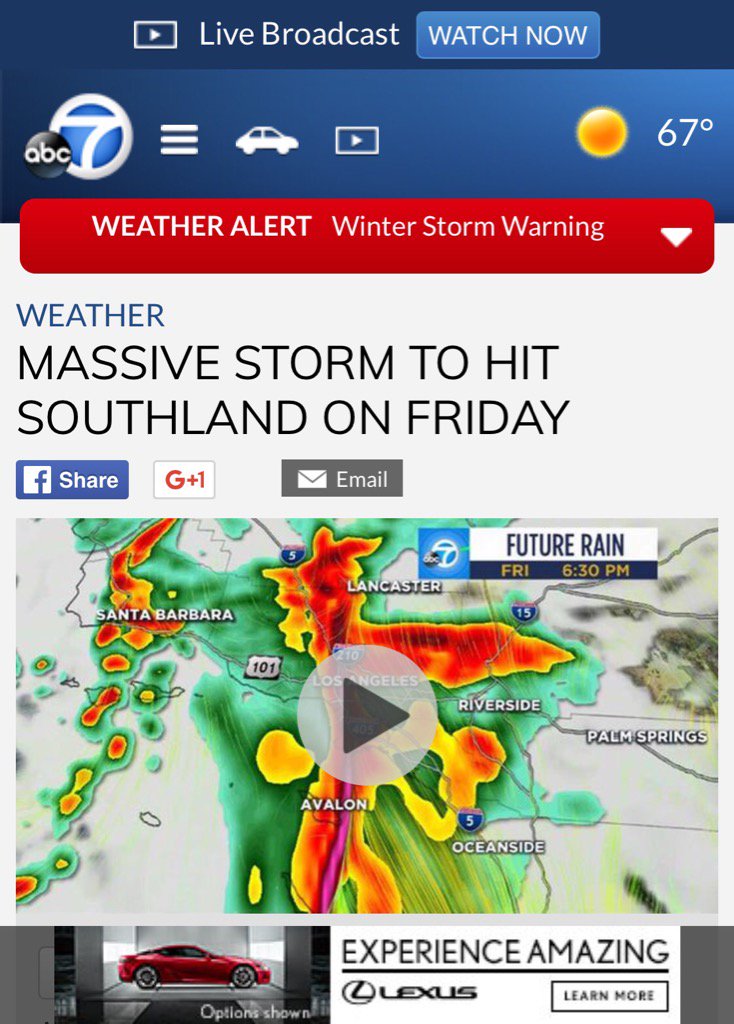 "The storm looks to be the strongest storm to hit southwest California this season," the National Weather Service office for the Los Angeles region wrote. "It is likely the strongest within the last six years and possibly even as far back as December 2004 or January 1995."
Rainfall predictions ranged from 4.4cm (2in) to 13.2cm (6in) on the coast and from 11-22cm in foothills and coastal mountain slopes.
With soil already saturated from significant rains this winter, forecasters warned of potential for flash floods and debris flows, especially near areas left barren by wildfires.
The city of Duarte, in the foothills of the San Gabriel mountains east of Los Angeles, ordered evacuation of 180 homes below a burn scar by 7am Friday.
Powerful winds capable of downing trees and powerlines were also expected, along with heavy snow in southern California's mountains.
Cal Poly, the state university in San Luis Obispo, was keeping an eye on an unstable hillside near a dormitory housing 275 students. A protective barrier was set up and some trees have been removed but students were being told to be ready to evacuate if the hillside gives way during the storm.
Santa Anita park near Pasadena cancelled all its horse races for Friday, and golfers at the PGA tour's annual stop at Riviera Country Club were unlikely to get more than a few holes in amid the storm.
Pasadena cancelled Saturday's annual Black History Month parade, citing public safety concerns including possible lightning strikes.
The system is among a series that forecasters said will impact California into next week.
Looming megadroughts in western US would make current drought look minor
In northern California, officials monitoring the stricken Oroville dam on the Feather river said on Thursday they were confident its reservoir would handle runoff from the storms because water department officials have been lowering the lake's level after its spillways were damaged.
The Sacramento weather office said models were trending stronger for a system arriving Sunday night and Monday in the northern part of the state due to a tap of deep moisture over the eastern Pacific that could bring 24 to 30 hours of moderate to heavy precipitation.
"Unfortunately, the focus of heaviest (precipitation) is lining up on the northern Sierra north of Highway 50 up into the Feather river basin," the office wrote.
Rainfall predictions in that region's foothills and mountains ranged from 6.6-22cm.
"Needless to say, impacts from the increased runoff, wind and heavy snow will be considerable," the weather service said.